Dr. Ashok Kothari
Dr. Ashok Kothari has been practicing orthodontics in the Chicago area since 1984. He is a Board Certified Orthodontist by the American Board of Orthodontics (a distinction held only by 20% of practicing orthodontists) and a member of the College of Diplomates of the American Board of Orthodontics, American Association of Orthodontists, the Illinois Orthodontic Society, American Dental Assocation and Chicago Dental Society. He has been practicing in Joliet since 1990 and Countryside since 2005. He previously practiced in Darien and Romeoville, Illinois.
Dr. Kothari was a Clinical Professor of Orthodontics at the University of Illinois College of Dentistry from 2003 to 2013. He received his dental degree from Nair Hospital Dental College in Bombay, India in 1975 and completed his orthodontic residency in 1978 from Bombay University. Upon coming to the United States, he completed an additional two-year orthodontic residency from 1981 to 1983 at the Loyola University School of Dentistry in Chicago.
Dr. Kothari is committed to sharing his knowledge with colleagues and students. He has lectured on topics such as Interdisciplinary Treatment, the benefits of early orthodontics and adult orthodontics at universities and conferences in Mexico, Panama, India, Thailand and the USA. He was especially honored to be a speaker at the 149th Chicago Dental Society Midwinter Meeting in February 2014. He has published articles in the Journal of Clinical Orthodontics and the World Journal of Orthodontics.
As part of his continuing education, Dr. Kothari attends the American Association of Orthodontics annual conference and several local orthodontic seminars throughout the year. This enables him to learn and apply new techniques from his colleagues so that his patients benefit from efficient treatment with minimum discomfort.
He lives in the southwest suburbs of Chicago with his wife Anju. They have two adult children, Anish and Anuja. A native of India, Dr. Kothari enjoys travelling, teaching and photography; his photos are proudly displayed at all three offices.
Dr. Anuja Kothari
Dr. Anuja Kothari obtained her Bachelor of Science at the University of Wisconsin at Madison. Dr. Kothari completed her Doctorate of Dental Surgery from the University of Illinois at Chicago. During dental school, she received several awards including the American Institute of Orthodontic Research Award and the Illinois State Dental Society Award. Following dental school, Dr. Kothari completed a post-graduate residency program at Nova Southeastern University to obtain a combined Specialty Certificate and Master's Degree in Orthodontics and Dentofacial Orthopedics. Dr. Kothari served as the Chief Resident during her time at Nova Southeastern University.
Dr. Kothari is an active member of the American Association of Orthodontists, American Dental Association, Illinois State Dental Society, and Chicago Dental Society. Through these organizations, she keeps up-to-date with technological advances and contemporary orthodontic treatment techniques.
In her free time, Dr. Kothari enjoys spending time with her husband, family, and friends. She enjoys exercising (especially yoga), traveling, and cooking! Dr. Kothari feels privileged to work alongside her father and learn from his diverse experiences. Dr. Kothari looks forward to working with you and your family!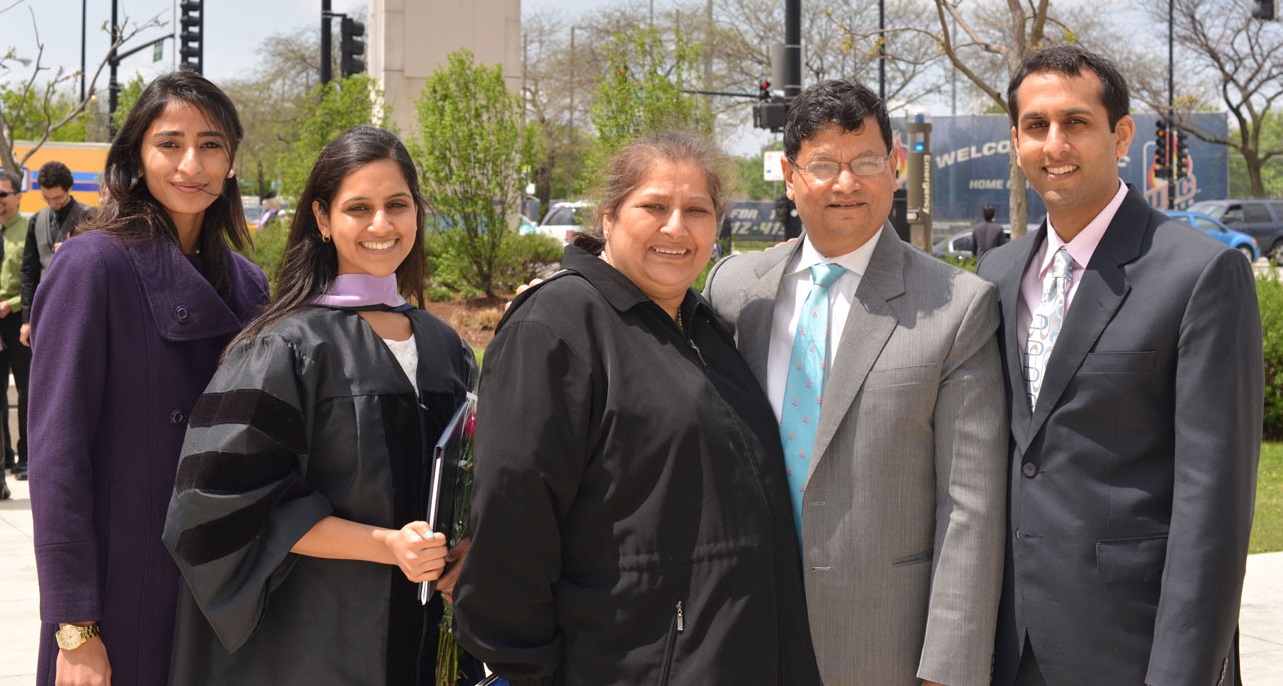 ---
Published Articles in Orthodontic Journals
Clinical Presentations and Orthodontic Seminars
Managing Difficult Orthodontic Cases, Mahidol University, Bangkok, Thailand. March 18, 2014


The Orthodontist's Role in Seeking Interdisciplinary Excellence, Chicago Dental Society Midwinter Meeting. February 20, 2014.


Interdisciplinary Treatment and Adult Orthodontics. Nova Southeastern University, Ft. Lauderdale, Florida. October 11, 2013


An Interdisciplinary Approach to Orthodontic Treatment of Difficult Cases. M.G.M. Dental College, Navi Mumbai, India. April 30, 2012


Orthodontic Mechanics. Marquette University, Milwaukee, Wisconsin. July 12, 2012


The Orthodontist's Role in the Management of Complex Cases. Orthodontic Society of Panama, Panama City, Panama. March 12, 2012


Current Concepts in Orthodontics. All India Institute of Medical Sciences, New Delhi, India. November 27, 2011


Interdisciplinary Approach in Orthodontics. National University of San Marcos, Lima, Peru (Webinar). August 13, 2011


Surgical Orthodontics. Dr. Sheikh Memorial Oration. Inaugural Speaker at the 15th Indian Orthodontic Society Post-Graduate Student Convention, Manali, India. March 27, 2011


Modern Concepts in Orthodontics. Chicago Dental Society Midwinter Meeting. February 27, 2010


Orthodontics: When and Why. Nair Hospital Dental College Silver Jubilee, Mumbai, India. December 20, 2008


Interdisciplinary Orthodontic Treatment. Indian Orthodontic Conference, Mumbai, India. December 19, 2008


Managing Complicated Cases. Will County Dental Society, Joliet, Illinois. April 2008


Early Orthodontics. Indian Orthodontic Society Post-Graduate Student Convention, New Delhi, India. February 2007.


Treatment of Complex Cases. Chandigarh Orthodontic Study Club, Chandigarh, India. January 2007


Early Orthodontics. International Symposium of Dentofacial Orthopedics, Chicago, Illinois. June 2006


Orthodontic Management of Interdisciplinary Cases. Marquette University, Milwaukee, Wisconsin. March 2005


Orthodontic Pearls. University of Nayarit, Tepic, Mexico. July 31, 2004


Orthodontic Treatment of Complex Problems. Orthodontic Association of Guadalajara, Guadalajara, Mexico. July 30, 2004


Orthodontic Treatment of Complex Problems. University of Guadalajara, Guadalajara, Mexico. July 29, 2004


Adult Orthodontics. Madras Orthodontic Study Club, Chennai, India. January 2004


Clinical Cases. Bombay Orthodontic Study Club, Mumbai, India. January 2004